Torus Animations
Originally Posted by
Woody
However, would I be correct in my interpretation of your post that you are not indicating that electrons actually have this kind of geometry. (If we had a kind of super microscope, we would not be able to "see" electrons as tiny donuts)
That's right. The electron is not some donut.
Originally Posted by
Woody
Rather you are generating a geometric way of visualising the mathematical function which models their (spinor) behaviour.
Yes, the torus is something like the
spinor
:
GNUFDL image by Slawekb, see
Wikipedia
However it's the wave nature of matter, not the flat-strip nature of matter. The electron is not some Möbius strip, and nor is it a donut. It doesn't have a surface either. But it does have a spherical symmetry. Something like this spindle sphere torus: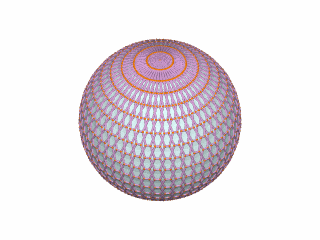 Image by Adrian Rossiter, see
Torus Animations
If you're thinking you've seen something like that before you'd be correct:
S-orbital image © Copyright 2010 Encyclopaedia Britannica
benit13: noted.