Wow ...I can see you have taken this idea quite far practically , eins , well done!
If you remove the heatsink , led and lens from the projector , you will see that by changing the distance of the lens from the led you can focus the beam onto a wall or screen and you will project an image of the led emitter itself ... perhaps you can see details of the led's surface in this image ( you can also do this with zoomable led torches , the emitter is usually square)...
The problem is no matter how you adjust the lens , or what mirrors etc you use, the smallest size of the image on the wall is always dependent on the size of the led surface , and to get a clear image in projecting slides or film this has to be close to a point or you get multiple (blurred) image/s
So it's all about selecting an led with max light from the smallest emitting area ...
The best available to date is this ....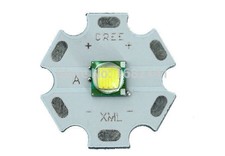 they only consume about 10 or 15W, so are not as bright , but they are small , and so will give you the clearest image posible with leds ....